Clearwater Beach Attractions and Activities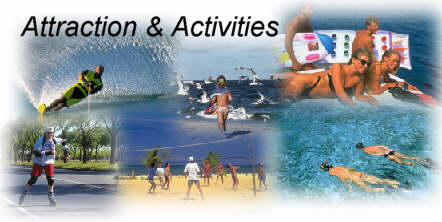 Clearwater Beach, Florida has change so much in the last few years that if you have been away for a long period of time you would not recognize the beach. Between the new hotels that have opened to the new restaurants at the middle of the beach, Clearwater Beach has something for everyone.
From the round a bout in the middle of Clearwater Beach, we have a new Ron Jon's Surf Shop, a Hooters as well as other new restaurants to enjoy. We have an indoor surfing experience that is enjoyed by all ages since the Gulf of Mexico does not have the waves that a man made machine can create.
Our mini golf course on the south end of Clearwater Beach still has 18 holes and a small arcade for the kids to enjoy.
Our beach is one of the nicest in Florida with it's fine sugar fine sand and calm warm waters Clearwater Beach is the perfect beach to relax, build a sand castle, fly a kite or just relax with a great book. Just don't forget the sunscreen. Getting sun burned can ruin your vacation and that's the last thing you want to do.
While on the beach enjoy a parasail ride or rent some person watercraft to tour Clearwater Beach and its surroundings.
If you love sailing or renting kayaks for leisure or fishing Sail Honeymoon has the perfect location. Just north of Clearwater Beach on the Dunedin Causeway Sail Honeymoon kayak and sailboat rentals has the perfect spot for kayaking. Check out their maps for kayaking through protected Caladesi island.
Don't forget to visit the Clearwater Marine Aquarium CMA and say hello to Winter the dolphin. Dolphins Tale is a world famous movie that put Winter the dolphin and Clearwater Beach on the map. Since it's release thousands and thousands of people have flocked to Clearwater Beach to see her. While there say hello to the other animals and mammals at the CMA. If you cannot make it to the CMA make sure you check out our live webcams and see Winter live 24 hours a day.
Our fishing charter boat at the Clearwater Beach marina has some of the best off shore fishing in the Gulf of Mexico. Charter a private boat for you and your friends and family or jump on a larger charter with up to 50 others. Depending on your budget, the fishing experience is one of the best around.
There is much more to do on Clearwater Beach that we wait your arrival.
Attraction and Activities around Clearwater Beach
Captain Bligh's Landing (miniature golf)
Captain Memo's Pirate Cruise
Reel Deal Private Charter Boat Fishing
Clearwater Marine Aquarium
Sail Honeymoon Kayak and Sail boat rentals




Restaurants and Bar/Night Life
Frenchy's with 4 restaurants on Clearwater Beach to serve you
Hooters - World renown
Cabby Bills with two locations on Clearwater Beach
Mandalay Grille
Brown Boxer on the north end of Clearwater Beach
Gondolier Italian Restaurant
IHOP
McDonalds- Yes we have one on the beach
Post Corner Pizza
The list goes on and on.


| Accommodations | Things To Do | Photo Gallery | Live Weather |
| Real Estate | Other Links |
Home Page